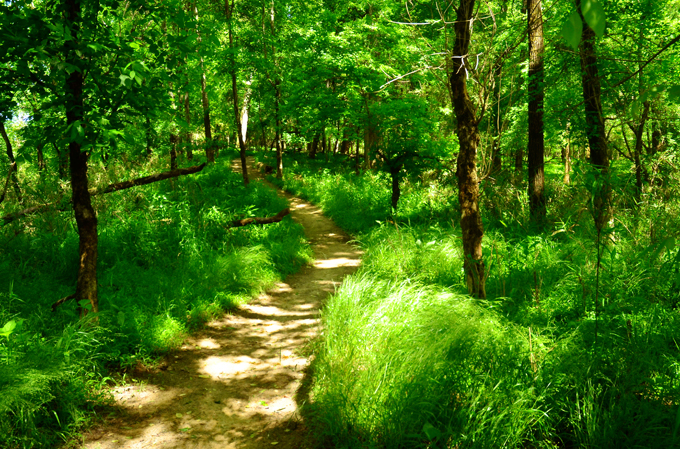 Recently, I took Cocoa and Chip to the Chattahoochee River Bend State Park. It is a beautiful area, and I will  post more photos this week. I just thought this one was especially relaxing and perfect for today. We hiked a mile in and a mile back out along a wooded trail like this one. We could have gone further, but it was getting late and the drive back to Atlanta was long. I'm a big supporter of our state parks. Every year, I get a park pass and visit as many as I can. They are usually safe, have a very natural feel, and also offer facilities. On our way to an observation tower, we had to cross a couple of small streams because foot bridges were under construction. That was a muddy experience!
Cocoa loved this park—an easy 5 paws. It was wild and she loves wild. My only concern was the mud in a couple of low lying areas. I'm sure the park service will find a solution to  that. I also kept a sharp look out for snakes. It's that season!!
This is a very natural park that contains over 2,000 acres of undeveloped land. It also has easy access to the Chattahoochee River. The water levels are high and so are the levels of  E coli, which means we did not get near the river. I guess this is true for all the lakes and waterways in the Atlanta area right now. Some lakes are several feet above full pool.