This is a dog friendly hike! At last a tree hugger! It seems more important (at this moment) to write more about the tree in the Joyce Kilmer Forest than it does to give directions to the park, or talk about the path in, up, and back out. My only admonishment would be: go! We went several years ago and so this was our second pilgrimage. The drive is longer than I remember but well worth it!
This forest is one of the Nation's most impressive remnants of old-growth forest. It contains magnificent examples of more than 100 tree species, many over 400-years-old! Some three and four people together cannot reach around . . . or just barely. Some of the trees in the forest are more than 20 feet in circumference and 100 feet tall.
One a small portion of the 3,800-acre forest has a trails in and out. The forest was set aside in 1936 as a memorial to the author of the poem—Joyce Kilmer, who was killed in action in France during World War I.
The Joyce Kilmer-Slick Rock Wilderness is maintained in its primitive state and the only way to experience it is on foot. A 2-mile trail loop will get you to the giant trees. There are two loops but the low one is presently closed to foot traffic due to downed trees and flooding. Take the well marked Joyce Kilmer loop trail that begins near the restroom facilities and you will soon find that you are surrounded by majesty.
It is hard not to photograph all of the trees but I began to only photograph the ones that we were in so I could show the perspective of just how huge these trees are. So who was Joyce Kilmer? He was a veteran of World War I and also a writer and an American poet. He died in 1918 on a lonely battlefield in France during the second battle of Marne. He was only 31. He was most known for his short poem: "Trees."
I think that I shall never see
A poem lovely as a tree.
A tree whose hungry mouth is prest
Against the earth's sweet flowing breast;
A tree that looks at God all day,
And lifts her leafy arms to pray;
A tree that may in Summer wear
A nest of robins in her hair;
Upon whose bosom snow has lain;
Who intimately lives with rain.
Poems are made by fools like me,
But only God can make a tree.
In 1934, Veterans lobbied to have this 3,800 acre forest set aside to memorialize Kilmer but also to preserve the trees! Most of the land around this forest was logged. Only this area remained untouched and loggers had their eyes set on these trees before they were saved from the axe blade.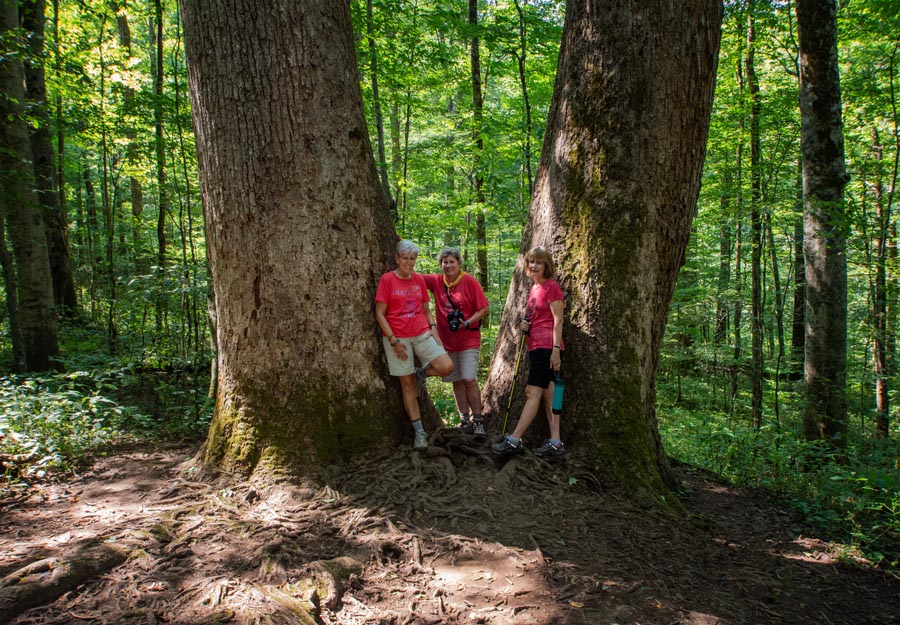 Some of the people who passed us called this set of trees "twins." This time I did notice that many of the trees were showing their age and a few had bark issues. The goal of the Joyce Kilmer foundation is to keep the forest in a very natural state—meaning nature gets to run its own course.
There is something very magical about being among the Trees. You feel strength, power, and peace. Beth at the base of one of the larger trees.
One couple passed us in tennis shoes and asked if we thought they could keep going to where the larger trees were located. I immediately said "yes." This is not a difficult pathway. You have to hike in and you don't have the luxury of hiking the easier lower loop due to recent weather downed trees but the trail into the upper loop is fairly easy. So, don't turn back!
Pat at the base of the same tree! And this was not one of the largest trees!
And then Anne! I think I opted not to have my photograph made here.
Instead, I chose to stop at this one. I put my back against the tree and could feel nothing but sheer strength supporting me. Guess that makes me an official tree hugger!
Beth, Anne, and Pat at the twin trees!
Beth did take a moment to be a little silly in the middle of all our awes and can you believe the size of that tree moments.
I had taken Anne's photo in this spot years ago and wanted to retake it in the same sport. This time, I noticed that the tree was showing signs of deterioration. Notice the deep holes on the tree to the left.
This is an amazing place so I would urge you to visit this forest. Check out to see when it is at its peak with fall color. The only other thing that I would say is that we were not alone. Though the park is almost isolated from easy-to-get-there roads, the park itself was teeming with people and the paths are narrow in places. We went later in the day, but still had to move to the side when people passed.
We noticed this tree immediately for the spansive root system. There were plenty of children climbing on the tree trunks and at least two people were making their was through the lower part of the forest trail, who were in the late 80's. So, there's nothing holding you back from visiting this very important and beautiful hardwood forest!
Directions: Joyce Kilmer Memorial Forest is located about 15 miles from Robbinsville. (It's a bit of a drive from northeast Georgia but worth it.) So, you have to get to Robbinsville, NC. We went through Franklin, NC. From Robbinsville, take Highway 129 North for 1.5 miles to the junction with Highway 143 West (Massey Branch Road). Turn left on Highway 143 and travel approx 5 miles to a stop sign. Turn right onto Kilmer Road. Drive for approx 7.3 miles and bear to the right at the junction of Santeetlah Gap and the Cherohala Skyway. Continue for another 2.5 miles to the entrance of the Joyce Kilmer Memorial Forest. Be sure to take snacks, water, and a camera! Though not necessary, a trekking pole is helpful, too. Since you are never alone in this forest, please keep your dog on a lease or lead. Others will thank you!