Kayaking down the Tugaloo Corridor has always been one of my favorite events mainly because I get to be with friends—new and old. Plus it is just a lot of fun and in some strange way, it marks the beginning of summer (finally!). I admit this year I wondered if the weather would cooperate but it did—perfectly! It was a little cool in the morning but that is why God gave us the sense to "layer!" You can take off what is not permanently attached.
This year, Kelly thought we would have close to 100 people with us and while I don't think we reached that number, we certainly had a lot more than in the past. Maybe the WYFF TV program on the Tugaloo Corridor helped to raise some awareness of this beautiful and still natural area.
Here's Kelly . . . I told him this day had turned into an super "event" for the Corridor! Say the word, Kelly, and I will help you "market it" in Atlanta.
The Morden's kayak outfitted and ready to go. I took this photo in an effort to see if they brought extra stuff to eat!
I met these ladies (front left) and found out that they were related to the Jarrells and Prathers. They are sisters: one lives in the Atlanta area and the other in Rabun County. I saw them later in town, and they  told me they were fascinated by what they learned  about their families. Kelly always does a great job! This was the first time they had been down the river.
I think Sharon was living the "high life!" We all pulled up and listened to Kelly. It was sort of like being at a drive-in movie theater! Sort of . . . for a few minutes.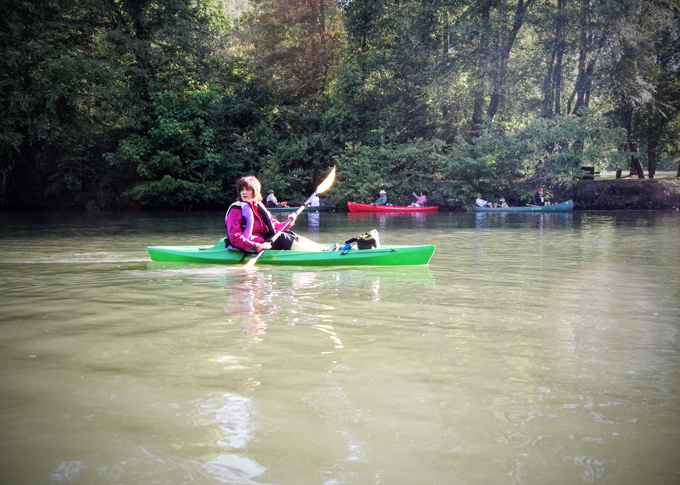 Early morning on the river with Pat and others.
Part of the group heading down the river. It was early and we were eager. This is just a cool event.
There was no one to take my photo. So I took it myself. I've learned this trick from the students at the college. Instant photo!
And then there is the sign. I confess that if I had time, I would want to walk this property. Lots of old cars and cows and all kinds of things. Really! I'll post more later. Need to head out for brunch on this awesome holiday.