I knew the author of the guide book Waterfall Hikes of Upstate South Carolina said this was an easy trail but my hope was for a little longer and steeper than what we experienced.
The stream that runs beside the trail is beautiful and reminds me more of being close to the Chattooga River than in Pickens, South Carolina. We could actually boulder hop here! This is Reedy Creek and if you explore the larger area, you will find even more waterfalls. When I can, I like to group two or three together that will end up giving me at least a 3 to 4 mile day.
Some boulders in the area were quite large like this one. Nice photo of Anne and Pat!
Though it seemed we "had the trail to ourselves" that was far from the case. This area is not one that I would give a "10" for Covid-19 safety reason! So, if you are worried about contact with others, this may not be the trail for you right now. People on the way to the falls and back, did move to the side, but families with young children really did not keep a distance.
Along the way, I always looked for any sign of wild flowers, and I found this little guy. Small and fleeting!
Okay, here are the pretty massive Twin Falls, which are twins but not identical! One is a straight 75-foot drop and the other is a cascade. And there is a third falls to the right that can be seen through the trees. Recent rains, have kept area waterfalls full and exciting.
So, where are the people that I have talked about? That's the magic of photoshop. I erased them for the sake of the photograph! This is a beautiful spot, and I would recommend visiting them but at "off" times. Take your dog, but know that other dogs are there—some running freely.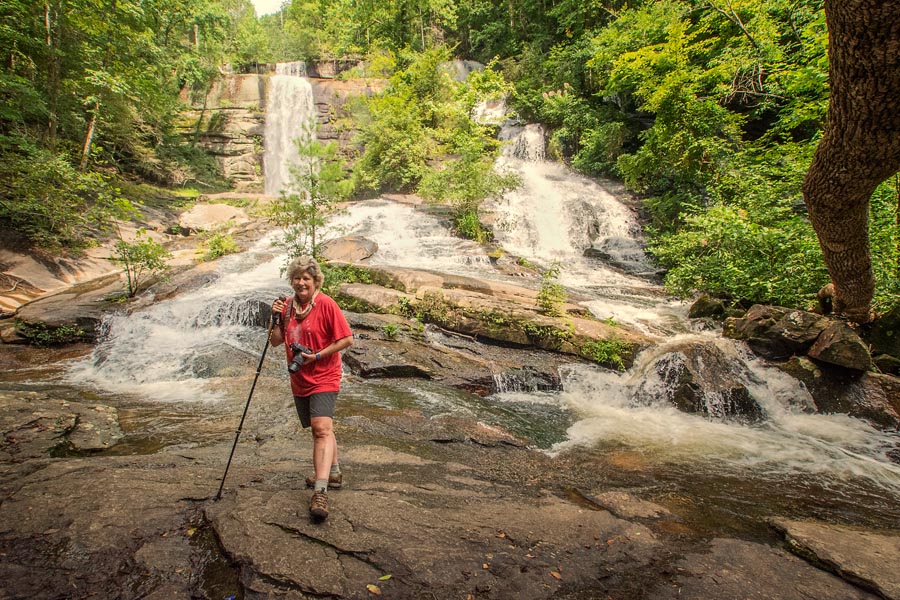 I managed to get a photo of Anne without too many people around her. Then I removed the silly, crazy folks, who were walking all over the falls at different levels. The rocks at these falls are polished by water; and honestly, my Merrill Hiker/Trail Runners did not provide the grip I needed. So while we did not get the "steps in " that we wanted to achieve, we did have the opportunity to scramble some in order to get safely back on the trail!
In other words: we found a way to make easy a little challenging.
The above photo was taken from the observation deck after lots of people left! I did not have my tripod, so I used the hand railing and snapped photos in-between the guy across from me moving around as he talked with a friend. Where there is a will there there is a way! Just wrap your camera to the wooden railing, hold your breath, and take the photo. Easy. Notice the third water fall through the trees at the right.
Same here: no tripod but I used a tree trunk to slow everything down. I know that I won't print these but they work well enough to record the memory and preserve the moment.
Directions: Google it! Most of the directions send you through Pickens, SC, but we figured out how to reach it from SC Hwy 11. Better yet: put it in Waze and follow the directions. You will lose cell service, but not before you reach the turn for the falls.