I wanted to hike Sam's Knob (elevation 6,045 feet) for the past six months. I read about it as I was learning more about nearby Tennent Mountain, which we hiked over Memorial Day weekend. But during the colder months, every time I tried, the Blue Ridge Parkway was closed. Finally, I realized that I was going to have to be patient. That's hard to do, especially when you have been captivated by "peak bagging."
The hike up Sam's Knob departs from a trailhead located at the end of Black Balsam Knob Road off the Blue Ridge Parkway at MP 420 (view maps and driving directions). (It's a shared trailhead with the Ivester Gap Trail, which departs northeast from the same parking area.) In the summer, tall wildflowers line the trail, stretching toward sunlight under the forest canopy. For my Atlanta and Toccoa friends, this is a hike that families can do together. It's an UP trail and there are some small rock scrambles along the way, but it's not too difficult.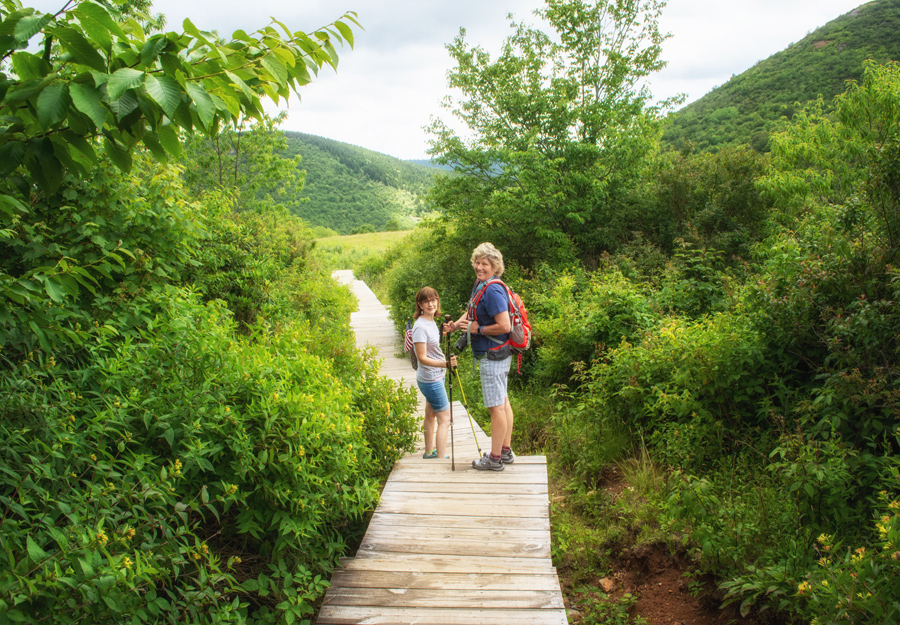 As a photographer, I think this boardwalk grabbed my attention from the beginning. I absolutely love how it stretches out to the grassy meadow and provides easy access to the open expansive field at the mountain's base.
Honestly, your mind can't take in the splendor of these mountains. They are different than the Smokies, which I deeply value. It takes added strength to climb some of the peaks there. But here you may be hiking in an open field one minute only to find yourself standing on the floor of a pine needle forest. Next you are climbing to the ceiling of a mountain bald with 360 views.
We couldn't wait to get to the top because we knew that we would be treated to views of the surrounding peaks. After crossing the boardwalk, you walk through the wide, wildflower-filled, grassy meadow.
Many people write this is one of the most scenic areas in western NC. I agree, but I'm still pretty much amazed by nearby Black Balsam. This trail can also be taken to nearby Tennent and then on to Black Balsam. But first, it climbs through a forest full of fern, gnarly-branched mountain laurel, and lichen-covered birch. As you climb, the view opens along the trail, and the air is tinged with the fresh and sweet scent of the area's balsam firs.
Sam's Knob has two peaks that are only about 950 apart. Beth poses for a photo before we head up Sam's Knob.
The hike reaches its lowest elevations at .6 miles before exiting the meadow. Behind me the pathway goes up slightly before it disappears into the forest.
Over Pat's shoulders is the pathway that we have just hiked to begin our climb.
Once you step inside this heavily wooded forest, you are immediately transported to another place in time. The trail begins the climb to the mountain's summit, coursing through dense, scraggly trees, mountain laurel, and fern, and switching back through a forest of lichen-covered birch.
There are several tight switchbacks before you come to a set of wooden stairs. I shot this photo just to show the erosion of the pathway. It is root filled but not difficult. One of the things that always stands out to me is the silence of these areas.
On the way up, the path hugs the side of the mountain, providing plenty of sun-drenched views along the way.
We hiked through plenty of tall wild blueberry bushes, but the blueberries were not ripe yet. Mmmm. May need to return before too long. Just below the mountaintop, we noticed that balsam firs are thriving once again in this sunny landscape.
The hike summits the south peak of the mountain at 1.3 miles. Generous sized, sculpted, rock outcrops offer perfect places to stop, eat a snack and take in some pretty stunning views. You also notice and feel a bit of high-elevation sun. The light here is clear and white making cloud formations even more dramatic.
While this spot was tempting, we didn't stop. Instead, we hiked on to the north summit.
Views from the summit extend in all directions, visible from large, expansive rock outcrops. The sinister-looking, jagged profile of Devils Courthouse is visible far on the horizon to the south, and the grassy, rolling summit of nearby Black Balsam Knob is visible to the east.
Stunning views of the nearby Shining Rock Wilderness and other peaks of the Blue Ridge Parkway, remind me that there are even more mountains waiting to be hiked!
One side of Sam's Knob offers this view and the others side offers the view below of neighboring Black Balsam. Many of these peaks are over 6,000 feet.
I told someone this weekend that Black Balsam will always feel like home. It was the first mountain I hiked after my chemo treatments ended. I remember going halfway up  just past a rocky face area and wondering if I could continue. I did another 1/4 of a mile and turned back. Two days later, I returned and climbed to the top! It was my second official peak. We had climb Waterrock Knob the day before. Compared to it, Black Balsam was easy!
Celebrating the 4th at the top of Sam's Knob and also my two year anniversary of being NED: No Evidence of Disease (Cancer).
Those are tall trees behind Anne and Beth! They look like average bushes but their not!
Camera bags add weight, but Leki tracking poles always make the climb easier and faster.
Love this photo of Pat taking a photo on her iPhone and then posting it on FB!
You are really never alone! We passed several people along the way to the summit. Each one wished us a Happy July 4th. I have never had that happen before—others tell us: "Happy 4th of July." It was fun to know people on the trails were doing the same thing we were doing: celebrating America's Birthday!
Very small rock scrambles are on this trail at every turn. I read that originally the park rangers, who cut the trail had hoped there would be a better run off of rain water. Instead, the water has washed the trail away leaving lots of UPs.
After soaking up the views, we headed back down and were greeted with this view of the open grassy meadow. Just beautiful!
Travel writers place different trail lengths on this hike. Some write the round trip is 2.2 miles. Others say 2.5; but according to Anne's Fitbit, we hiked 3 miles. I think the difference comes in the beginning and the choice of trail you take. Plus, we hiked to both peaks. The trail is even longer if you follow it to Tennent or Black Balsam.
So, for the last shot I chose: daisies. The meadow was filled with these.