We continue to paddle to get ready for the Tugaloo River History Tour next weekend.
Here's the river that we'll paddle down for seven miles. It's beautiful!
Along the way, we'll pass Mountain Laurel, wild roses, and plenty of poison ivy! Avoid the last in this list at all costs.
Coves along the river wait to be explored.
And bridges stand ready to be paddled under. Before it was destroyed by fire, this is where Prather Bridge once stood. It was a covered bridge built in 1920. The only thing remaining of the old bridge are the stone pillars.  The bridge stood a "stone's throw" downstream from the present concrete bridge, which  spans the river between Georgia and South Carolina. The first bridge built at this location was constructed in 1804 by James J. Prather (historians differ on the construction of this first bridge with one stating that it was a swinging bridge and the other stating that the stone supports were used). The stone used to construct the support pillars was cut from a quarry nearby on the Prather Plantation. The timbers used in the covered bridge's construction were also cut from this plantation.
I love the late afternoon reflections and how they dance across the bridge.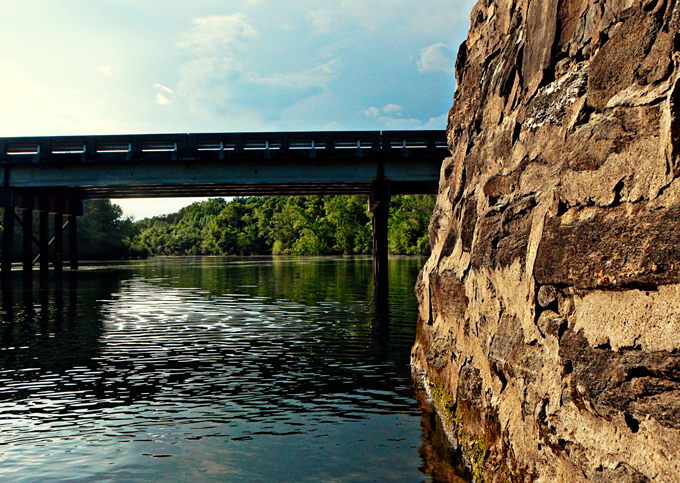 We'll pass the supports for the old covered bridge and Kelly will stop and tell the history of the area at this point. He has a famous story of Union Soldiers coming across the bridge at night and how they could be heard!
Here's the view looking back up the river toward the mountains with reflections of the clouds in the water.