Recently, we went on a short search for what was left of R. G. LeTourneau's life in Toccoa, and I can tell you not much. R.G. LeTourneau was an industrialist that held more than 300 patents, simultaneously owned and operated manufacturing plants including one in Toccoa on four different continents, and founded LeTourneau University. Yet strangely, was himself a sixth grade dropout. The idea to build a plant in Toccoa and later to establish a college in Texas that bears his name came from his longtime friend, Toccoa Falls College President, Dr. Richard Forrest.
In 1938, Richard Forrest guided LeTourneau in his purchase of the land where he would build one of his best earth-moving companies. "LeTourneau was drawn to Toccoa because of the philosophy of the already established Toccoa Falls Institute (now Toccoa Falls College) which promoted a Christian foundation in conjunction with technical training. LeTourneau met Dr. Richard A. Forrest and decided that Toccoa, Georgia was an excellent site; LeTourneau's beliefs were parallel to Forrest's as they both had strong Christian foundations and a wish for a pragmatic technical education. Another reason for locating the plant in Toccoa was to "provide a source from which to draw intelligent, well-educated young men for employment in (the) plant," writes Everett E. Henderson.
To the amazement and fascination of many, LeTourneau built the community Tournapull near his earth moving company and also Lake Louise—the lake he built and named after his only daughter. Today, very little remains of the LeTourneau empire in Toccoa. The buildings that formed his company in Toccoa and once teamed with energy and excitement are mostly gone. Those that do remain are pretty much vacant. The location of his own house overlooking the lake was long ago razed. Nothing is left of the once thriving community of Tournapull and the area on the lake that was used for employee picnics and activities is empty and a haunting reminder of just how quickly life can change and visions end.
Here we approach the boating and picnic area that LeTourneau built for his workers.
Narrow steel rails are all that is left of a narrow dock, where paddle boats once docked.
This vacant area remains beautiful; and has, for the most part, returned to a natural environment.
LeTourneau's home sat on this point overlooking Lake Louise.
It was built in the 1940's and was made of steel and glass!
The road that leads out to a swimming and picnic areas is quiet but still well-kept.
Of course, the picnic tables were constructed of concrete and steel making them nearly indestructible. The wooden seats have long ago rotted away.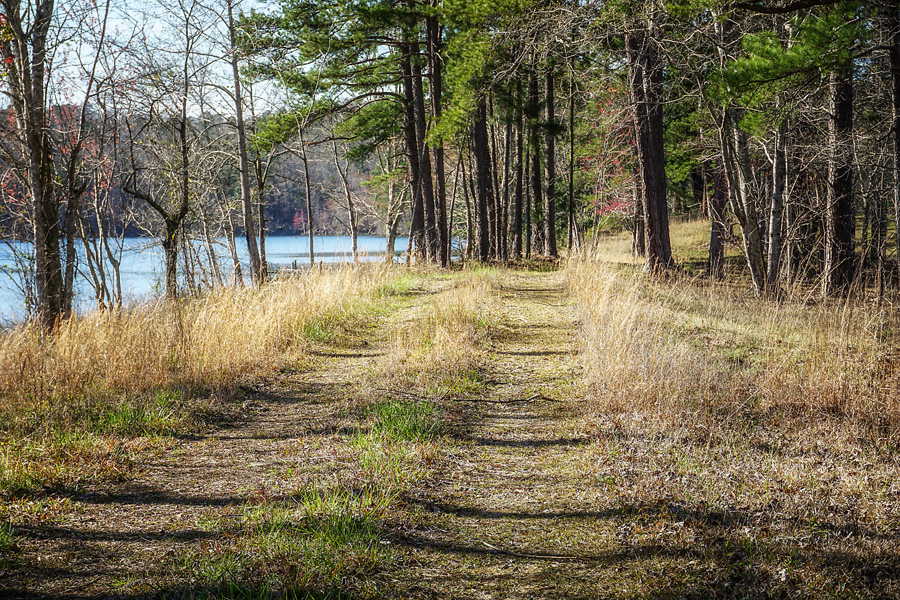 This naturally beautiful area is located on private property and safely tucked away from the public. It's one of the most peaceful places I have visited in Stephens County. It's almost like LeTourneau, himself, could step out from one of the overgrown wooden areas and welcome us to his private retreat.
The old swimming area complete with a sandy bottom is still visible. Notice the chain-link fencing that I guess kept the larger fish out and the children in! A recent downed tree has breached it; but outside of that, it looks frozen in time and almost like it's waiting for waders and splashing children to return.
We stood on a solid, concrete platform that quietly remains and overlooks Lake Louise. I'm sure that many people in Toccoa remember being at this very spot in the summer. Read more about the amazing life of R. G. Tourneau here.