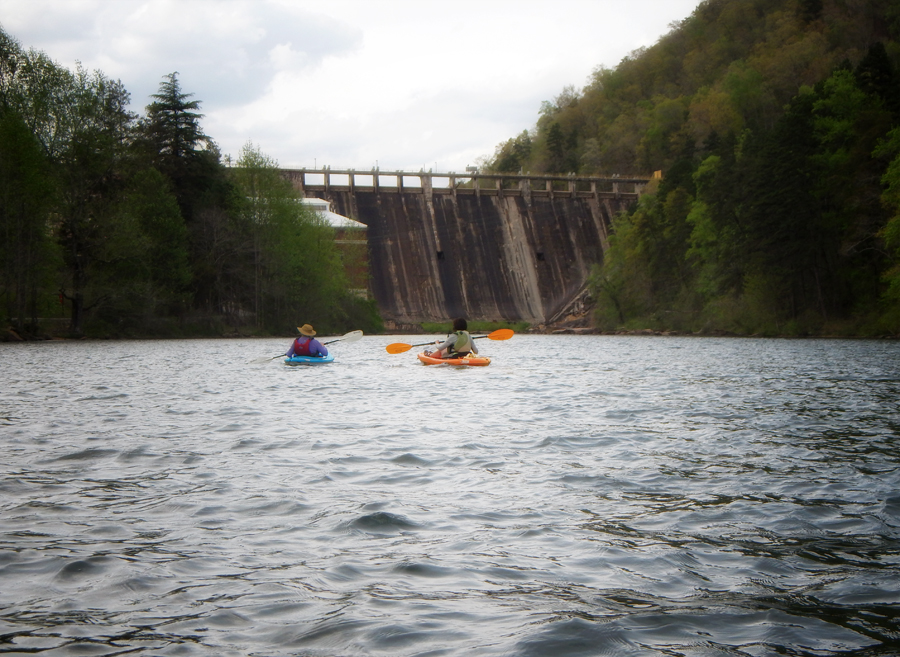 It has rained and rained and rained some more. This was our second paddle of the spring season, and we left from the back half of Lake Yonah. I think we all were determined to paddle and be outside. And while I'm just doing short trips, they are helping me see if I'll be able to build myself back up in time for the longer paddle at the end of May. So far so good!
The thing we like about this lake is that it feels like the bottom of Tallulah Gorge, which is where it is located. The rocky cliffs and large boulders are evidence that you are in that "other world" atmosphere. It is just not as dramatic or deep as the Gorge.
We enjoy paddling out into the fast moving stream during water releases from the dam. All the Georgia Power lakes are at full pool and most are over full pool. It's just rained a lot and the water is moving fast.
Of course, you can hangout along the shore and not have to think about what's moving or not. The sun was in and out on this Saturday. Mostly, it was in. I'm ready for sun and summer!
At the last moment, we decided to pack a small picnic dinner—hamburgers, hot dogs, potato salad, apple crispy and the grill! We were sorry that Beth was not with us.
Our first batch of hot dogs were pretty much burned to a crisp! I don't know what got into us! I have never had to toss a grilled hot dog away, but these were past well done.  Since I'm not a "cap" person, I'm trying to get use to my short hair look and little cap. The nurses have said, "Keep your head covered!" (Sigh)
This is what I don't want to do—camp out! These guys kayak down the gorge and then camp out at this park. Then they get up the next morning and do it all over again. I'm just happy to paddle flat water with a few little rapids.
A parting shot! So this is not a bad photo given that it was taken with a Nikon water camera. I love our of natural azaleas!