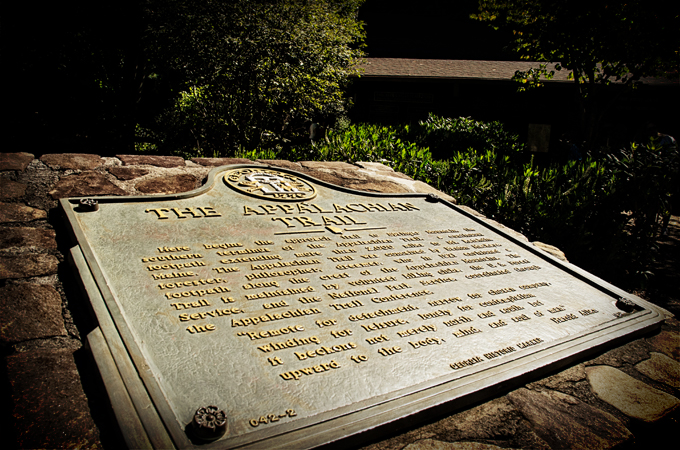 This is where it all starts! The Appalachian Trail begins here near Springer Mountain. But first each hiker that plans to stay on the trail overnight as to sign in a the park headquarters.
Sort of a fun sign to read but sobering if you are not in shape to make the hike. It greets you on your way to  begin the five mile hike to the Hike Inn.
On our way, notice Sharon's water supply on her right shoulder—rather professional. I have always said she has the most engaging smile.
it was fun being with Anne and talking about cameras and other things .
Here is the lobby area that was lined with antique backpacks.
The Len Foote Inn is tucked away in a natural environment and is a LEED gold structure. This means that it is a green building and conserves energy and other resources! It is state run and one of the only inns that has this recognition. I work with architects and I can tell you that this is a big deal!
When the staff of the inn learned that it was my birthday, they placed a candle in my piece of wonderful blueberry pie. The food at the inn is absolutely wonderful.
Waiting for sunrise the next morning. . .
and when it came up, it was an Equinox sunrise!
Good morning, coffee!! We were asked to reuse our coffee cups! So we put labels on them made of corn starch. These melt away when placed in water. I meant to ask Anne if she had coffee with me. I was still so sleepy. But I see her cup in the background of this photo so she must have had something hot!
Pat and Sharon together—BFF! Smile! Sharon had hot tea!
Here's the upper portion of the lobby that greets you at the Hike Inn.
Of course, there is the wonderful view from the top of Amicalola Falls.