One of the "wintering" things I continue to do is to visit rural historic church. There is a guy who does this and actually gets inside the churches to photograph the interiors. You can visit his website here and also purchase his really cool book on the site or on Amazon. Honestly, I just follow his path and see this as an easy adventure on a Saturday or Sunday afternoon.
The week had been a nightmare! The pace was furious and by Saturday, I had a billizon errands to run. But by Saturday afternoon, I was free to pick up the camera and drive a short distance to Jackson County, Georgia, where I visited some of historic churches. If you are looking for something cheap and fun to do on the weekend, this type of search could satisfy your wandering heart. Many of these old churches have long histories and the drive to find them will take you along country roads that are just lovely.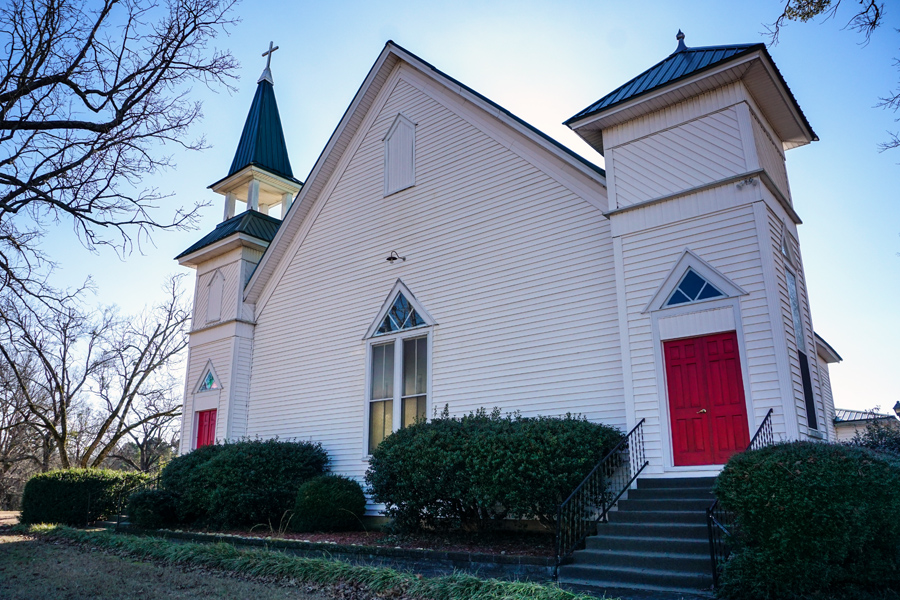 This is Dry Pond Methodist Church. I grew up attending a church like this one with two towers and two entrances. I'm going to guess that the women and men had separate doors to enter by. It's one of the earliest Methodist churches in Jackson County if not the oldest—1827.
The present structure is the third sanctuary to be located on the property. "Five years after the Civil War, returning Confederate Veterans decided to erect a new church building. The second church building was used until 1903 when the decision was made to build the present structure and the first service was held in September of 1904."

This is Apply Valley Baptist and it is a haunting reminder of rural Georgia in the early 1800's. It's long been vacant and now used as a horse barn! A near church building is located a few yards away from this original church building. This old church is situated in a rural setting on the crest of a slight hill that offer 360 degree views of Jackson County farm land. It has been in this location for over 125 years.
Apple Valley Baptist was organized May 7, 1887 in a school building with 34 charter members. It then states that the church was built the following year in 1888. Local history states that this building was used as a school house in the early 20th century until it was abandoned.
It is a classic rural box construction with no steeple, four windows on a side and a double door entry. The church/school has been deserted for some time and is now being used as a stable and for farm storage purposes.

The tin roof is still in good shape really speaks to the beauty of tin as a perfect roofing material for these old structures. Prior to tin, wood shingles were the roofing material of choice.
According to church records, Academy Baptist was organized in 1810 and became a member of the Sarepta Association in 1812. It is the fourth oldest Baptist church in Jackson County after Oconee Baptist, organized in 1788, Cabin Creek in 1796 and Black's Creek in 1803. One of the springs fed the Baptismal pool that is still in existence, although no longer used for that purpose.
I love the doors of this old church, especially in the late afternoon sunlight.
Prospect Methodist is probably one of my favorites. I love the tall windows and can imagine how they were once open in the warmer months. It is the oldest churches in post Revolutionary War Georgia, and its origins can be traced to the earliest rise of Methodism right after the war. The church predates Jackson County, which was formed out of Franklin County in 1796! The earliest records are scarce but, according to a local newspaper article, a wedding was conducted there by Reverend James Tinsley in 1788.
To put this into perspective, this wedding took place before George Washington became president and the Oconee River, just a stones throw away, was the western border of Georgia. On the other side of the Oconee were hostile Cherokee Indians who were grudgingly being forced to give up their land to the white man!
The church followed the usual evolution from Brush Arbor to a log structure "meeting house" (built in 1812), and finally to a more finished wood frame construction. The present sanctuary was built in 1890.
Again, the later afternoon winter sun makes the different.
And we found plenty of these, which we think are Black Walnuts. That tree all but vanished from the Georgia landscape due to disease.
This was Thyatira Presbyterian is a primitive jewel that was founded over 200 years ago. Today it is Thyatira Baptist. Presbyterian churches are usually located in more urban areas and have a feeling of understated wealth about them. Thyatira was founded by Scots Irish revolutionary soldiers, who came into this part of Georgia to get free land during the land grant era after the Revolutionary War. The founders were tough folks, who were were willing to take on the less desirable wilderness of the northern hills.