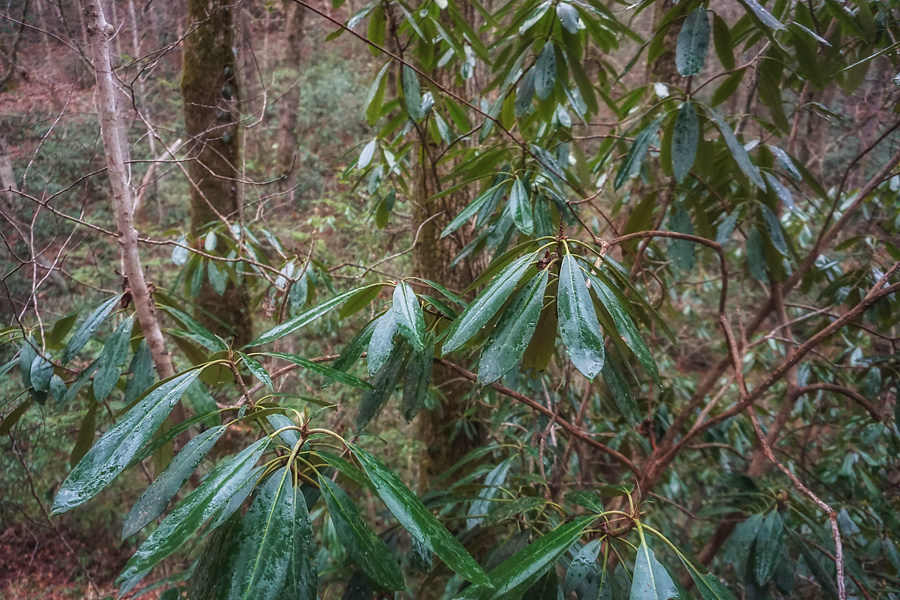 Years ago my mother explained that birds find places to "winter." They use unoccupied bird houses and dense bushes to winter. I confess that I'm still trying to find my Wintering place. Every weekend seems to be a rain event.
The week days are overcast and soggy. I can't even get out to see my cows because they have left their usual nearby fields and they are wintering off in the distance—too far for me to walk to get to them. So what do I do?
Last weekend, we drove up to find a location along the Chattooga River that I had wanted to visit for a long time—Woodall Shoals. It is a deadly Class 4 rapid and I thought if the rain was not going to stop, then we would just join in and hike the short distance to the Shoals.

Hikers walking the quarter-mile trail to the Chattooga River's Woodall Shoals get a firsthand look at a menacing whitewater rapid.
Kayakers, canoers and rafters are cautioned to avoid Woodall Shoal's deadly Class IV hole, but the rest of the rapid is a twisting, tumbling torrent of water enjoyed by experienced paddlers.
From the riverbank, we looked out over the rapids coming at us from several different directions. I knew instantly that I would want to return in the spring and watch as kayakers bump off rocks with their paddles while heading downriver.
There's more to Woodall Shoals than a front-row seat to the fun. At the bottom of the rapid the river turns placid, creating a large pool where people can swim, soak or wade in the water.
One person wrote, "On the huge granite ledge extending from the left bank above the rapid, visitors find plenty of quiet spots to picnic, read a book, sunbathe or just sit and enjoy the breathtaking view of the Chattooga River and the Upstate's tree-covered mountains that rise from its banks." I believe it!
To get to Woodall Shoals Trail, go east 2.5 miles from the US 76 bridge to Orchard Road. Turn right and drive half a mile to the gravel Woodall Road on the right. The parking area is at the end of the road.
Anne and Pat insisted on carrying umbrellas with us as we traveled down to the river. After all, it was sprinkling.

We did see plenty of evidence of where the river has recently come out of it's banks. I can't imagine what it would be like to be near this force of nature on a really bad, rainy day.
You hear the Chattooga before you see it and then you see it and don't understand its force until you get up close and personal with it. This river demands respect.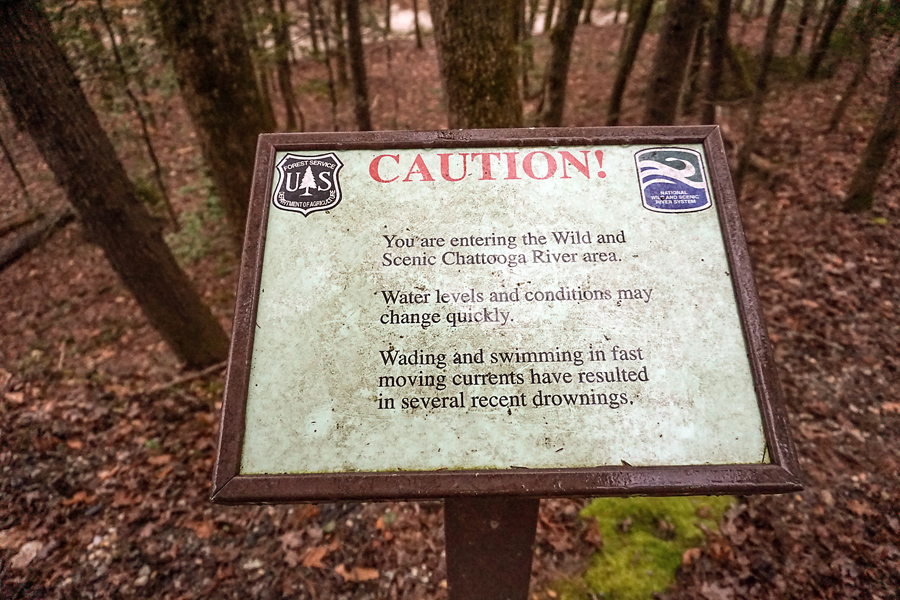 The sign says it all. "Wild and Scenic." The last sentence is a definite warning. This river is not dam controlled so it pretty much does its own thing.
After the "short" hike, we ended up in Clayton where we ate at Fortify Pi, but I think at some point in the future the newly remodeled Clayton Cafe could be a perfect breakfast spot.